Know How to Restrict Copying Text & Images from PDF Files
Earlier, I got a PDF file from my client I tried to copy some information from the PDF file but unable to do so. I was not able to understand why can't I copy and paste from a pdf file. After reading many threads I come to know that the PDF file was disabled for copying text and images by using Adobe Acrobat. I also used the same techniques to enable copy restrictions on my PDF documents.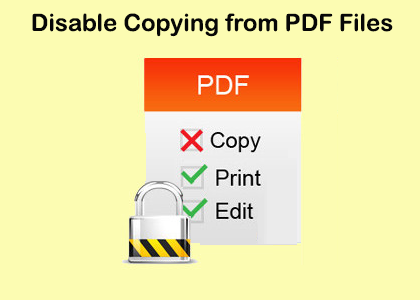 Why Need to Restrict Copying from PDF Files?
It is required to prevent copying text from pdf file from a public PDF file to avoid text duplication. Easily restrict users from copying text, images and graphics from a particular PDF file by modifying security settings in Adobe Acrobat. In this tutorial I am going to explore a few easy steps which are used to prevent copying text from PDF file.
Steps to Disable Copying of PDF Files
Open the PDF file with Adobe Acrobat 7.0 or earlier
Go to the Menu bar and click the "Advanced" tab >> Select "Security" >> "Encrypt with Password" >> Now click "Yes" to enable setting changes.
Provide an authorization password that can be used to modify security settings for next time
Click "Printing Allowed" >> Select printing options from the drop down. Choose the default setting of "None" to disable printing completely.
Press "Changed Allowed" >> select any options if you want to enable >> Choose the default setting of "None" to disable any of the changes.
Click "OK". Now no one can copy or paste any section from the file.
Conclusion:
These steps can protect the required PDF documents and also manage the distribution. You can stop copying text from pdf and disable printing function of the document. Only that person will be able to modify this PDF file who knows the authorization password. In case if you forget your password or some others want to remove copy restriction from the file, then a free online PDF unlocker tool can be used. How to restrict PDF to print is discussed on another post.