How to Restrict PDF to Print for Disabling Print Function?
Portable Document Format (PDF) is a highly used file format for sharing in different types of media such as: the web, print and email, etc. But occasionally you may not want to permit users of your PDFs to print these documents for security and copyright reasons. Now "how to restrict PDF to print" becomes a query for users. So don't be panic, disable print function in a PDF file through Security settings of Acrobat Pro.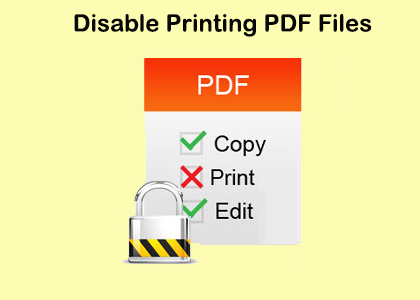 Follow Instructions to know how to disable the PDF print function:
Open PDF file with Acrobat Pro. Go to File Menu >> Properties
Now press the "Security" Tab to show security section
Click on "Security Method" >> Select "Password Security" from drop down list
Now search "Permission" section >> Click the check box (Restrict editing and printing of the document. A password will be required in order to change these permission settings)
Now provide a password to the field name as "Change Permissions Password"
Open "Printing Allowed" drop-down >> choose "None."
Click "OK." >> An alert dialog box appears (There's nothing you can do about this---hacking is part of life on the Internet.) >> Click "OK."Â  To confirm Permissions Password dialog appears.
Type the password you entered recently >> click "OK." >> Now Acrobat shows an alert (changes won't take place until you save the document) >> Click "OK." Â This returns you to Document Properties.
Press "OK" button to close Document Properties window.
In the last step click "File" on the menu bar >> Click the "Save" to save the printing disabled PDF.
Conclusion:
These steps will help you to disable print function in PDF file. But in case if anyone must need to unlock PDF restrictions that time an online PDF restriction remover tool can be used that is totally free. You may also read another post to know how to restrict copying text from PDF.