How to Disable or Lock PDF from Editing Online?
How to disable editing in a PDF file becomes a big query when PDF owner wants to prevent anyone from editing document. Sometimes schools, companies and legal departments require sharing essential information with their team members or students, but don't want to give permission to edit that document. In such situation they can restrict editing PDF files by modifying few "Security Features" in the Acrobat pro. And this is only an easy way to lock PDF from editing without password for mainly data security purpose. Please note that the given process will work properly for all Acrobat programs (Pro, Standard and Suite). A few simple steps are required to lock pdf from editing, printing and copying online with the help of Adobe Acrobat. It also can be used to restrict pdf to print or disable copying PDF content.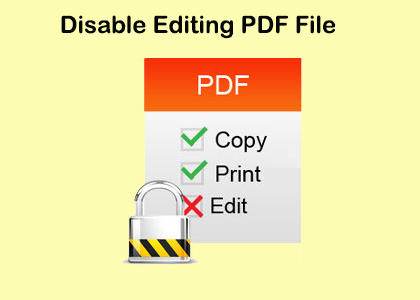 Follow simple instructions to explore how to disable editing in a PDF file:
Open the PDF document which you wish to restrict editing >> Click the "Open" icon >> Press the "Look in" >> Double-click the file to open the PDF.
Go to "File" menu >> select "Properties" >> Select the "Security" tab >> Use the "Security Method" >> select "Password Security." >> Now a confirmation window will pop-ups that you want to allow changes to the PDF >> Now Click the "Yes" button.
Choose "Restrict editing" from Permissions part of the Password Security window >> Click the "Changes Allowed" menu >> Now select "None" to restrict editing of the PDF >> Provide a password into the right field >> finally click the "OK" button.
Conclusion:
In this way user can easily protect PDF files from editing and lock pdf file from editing online. But in some cases user forgot to enter password need to unlock PDF to edit again. As well as some other ones need to edit restricted PDF file in a legal way that time a free online tool can be used.